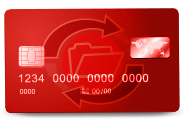 Do you know a business that might be out of business if they suddenly lost all their valuable data? Please introduce them to Dr.Backup.
Just help us to connect with your associate and we'll handle the rest. If they sign up for service, you'll receive our thanks along with either a FREE 10 GB storage upgrade or $25 VISA Check Card*.
Please take just a few minutes to fill out the short form below and let your associate know that we will be contacting them shortly.
Thanks in advance for your help!
We'll contact the individual below shortly. Please let them know so they'll be expecting our call:
* Referral awards are processed monthly. No gift cards will be issued until customer has made first service payment. This program may not be combined with any other promotion or discount. Dr.Backup Pro-Partners are not eligible to receive this award. If a referred customer is a current client of a Pro-Partner, the upfront sales commission available to the Pro-Partner will be reduced by the amount of the referral award.