Get serious online backup protection for your business FREE for 30 days!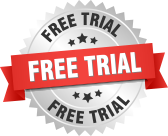 During this 30-day evaluation period, you are under no obligation to purchase the service and will not be asked for your credit card or other form of payment.
Please complete the information form below accurately. If we need to reach you for any service related issue, we use this information. If you do not supply a valid phone number or your email address is undeliverable, we may not be able to contact you.
The backup of databases, financial applications, line-of-business programs and other mission critical data from servers may require specialized technical expertise. Assistance is available free of charge from Dr.Backup customer support.
Throughout the evaluation period, you will receive email messages from support@drbackup.net to introduce you to the features and benefits of using Dr.Backup and provide helpful configuration tips.
An email notification is sent when your evaluation period ends. At that time, you will be given instructions on how to permanently protect your company's critical data by converting over to the (paid) production service.