Thank you for your Interest in Dr.Backup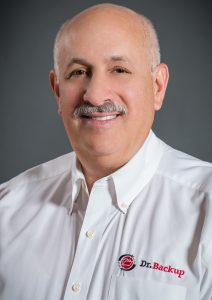 Founded in 2001, Doctor Backup, LLC (Dr.Backup) is a privately held, owner-operated company headquartered just a few miles from our nation's capital, Washington DC.
We are specialists in providing fully-managed online backup service designed exclusively for savvy small businesses without the time or expertise to properly plan, design, implement and manage their own rock-solid data protection solution. We help our clients safeguard one of their most critical business assets – their computer data.
Dr.Backup owns and operates its own backup servers and storage network. This enables us to provide clients with both high levels of reliability and exceptional value. Each month we perform over 85,000 fully-managed S.M.A.R.T. online backups – which combine superior online backup technology with ongoing expert service from our technical team.
Over the years, we have assisted in the successful restoration of millions of files from our secure storage archives – allowing our business clients to avoid the extreme hardship and financial impact that comes with data loss.
Dr.Backup services clients from virtually all industry segments, from accountants to non-profit organizations. Our service is widely used in doctor's offices – helping medical professionals achieve HIPAA compliance.
We are the preferred online backup solution provider for hundreds of technology professionals nationwide who have joined our Pro-Partner Program. They include Dr. Backup in the comprehensive managed care solutions they deliver to their own clients – ensuring them the highest levels of data protection and customer care.
Our clients and Pro-Partners enjoy some of the highest levels of customer support in the industry. We take our service motto, "We've Got Your Back," very seriously, and stand behind our offerings with one of the industry's only 100% Customer Satisfaction guarantees.
All the best,
Mitchell Romm
Managing Partner
Doctor Backup, LLC