Welcome to the new Dr.Backup website.
It's been a long time coming, but the development of our new and improved website is finally complete. (Well, at least Phase I is complete!)
Since 2001, we've revised, updated and cajoled our original homepage to meet the needs of our customers and business partners.
But these days, it seems everybody uses a variety of devices to access the web — all of which are powerful computing platforms with higher resolution screens and faster processors. This necessitated a complete rethinking of how we use the web for client interaction.
As shown below, the new Dr.Backup website is designed to work equally well with PCs, tablets and even smart phones.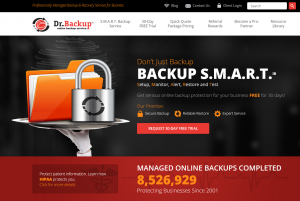 The PC view provides full access to all the features and functions of the new website.
A running counter proudly displays the number of fully managed online backups we've performed for clients since 2001…this is our equivalent of the fast food chain that has sold billions and billions of hamburgers!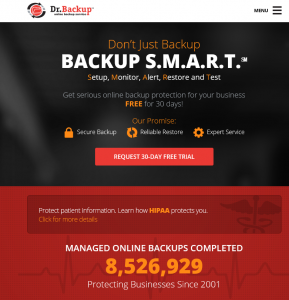 The tablet version of the website operates with a slightly smaller screen profile and a pull down menu which includes nearly all of the major functions available to our clients and Pro-Partners.
Finally the smartphone version of the site provides an even more condensed single-column view with a nice pull down menu bar.
While users of each type of device will see a slightly different geometric layout of the website, they all have full access to the major features of the site including the ability to easily request establishment of a 30-day free trial of our backup services.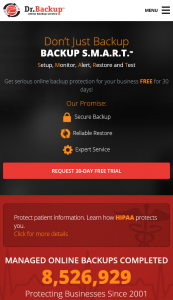 The new site strongly emphasizes our theme of being a provider of professionally managed backup services that use the S.M.A.R.T. service delivery methodology. We perform the Setup, Monitoring, Alerting, Recovering and Testing of Windows-based backups. We've also made it easier to locate and access the resources our client and partner communities told us they needed.
One major new addition to the site is the ability to accurate quote Dr.Backup services. Our "Quick Quote" module now permits anybody to select the base and optional services they need — and to generate a realistic estimate of the likely cost for service. (No phone calls with pushy sales reps ever!)
We've also added LIVE Chat support to the mix of ways that you can interact with our customer support technicians.
Please take some time to check out the new site at: https://drbackup.net
As always, thanks for allowing us to serve you.
Mitchell Romm
Managing Partner
Doctor Backup, LLC