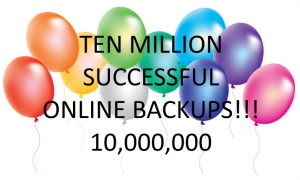 Dear Valued Clients and Business Partners,
Hard to believe, but it's been over 15 years since Dr.Backup first opened its doors in 2001 — inspired by the tragic events of September 11, 2001 (Nine-Eleven.)
Since then, the team has had the privilege of helping to protect the critical files, folders, email, databases and application data on thousands of customer systems throughout the United States and Canada.
We are thrilled to report that on September 16, 2017 we completed our 10,000,000th (ten million) managed online backup.
I couldn't be prouder of the work done by our customer support team here — working hand-in-hand with our local technology partners — to safeguard your most important data.
Thank you for your support all these years. We truly appreciate it and will continue to work hard at maintaining your trust every day.
Best regards,
Mitch Romm
Managing Partner
Doctor Backup, LLC