A while back, I wrote about how a properly managed online backup service served much the same purpose as a coal miner's canary. That is, when the canary stopped chirping, the miner's lungs were likely filling with toxic gases…and it was time to take immediate action.
Well, history continues to repeat itself.
Recently, a Dr.Backup client of many years began experiencing intermittent backup problems. Our automated monitoring systems first noticed the problem and alerted the client via email. Because the backup problems kept reoccurring, a technician contacted the client directly and arranged for remote access to take a closer look.
After verifying that the backup configuration was good, a basic review of the machine turned up this: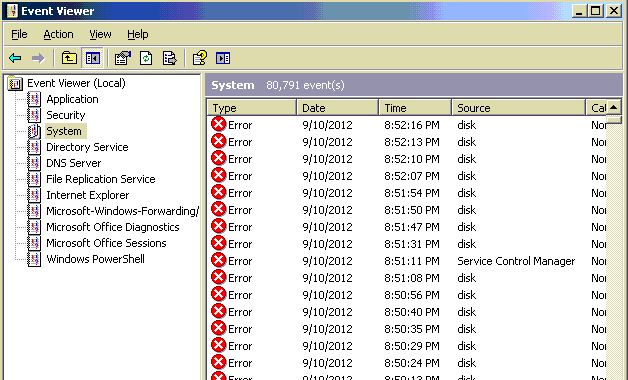 Yep, this is a picture of the Windows Server event log viewer – and those are hard disk error reports. Uh oh!
What's even more alarming is that this machine's disks were supposedly protected by a raid mirror. Apparently one of the mirror drives had already failed — and the second wasn't far behind!
When informed, the customer confirmed that some strange problems had been occurring of late, but they would just reboot the server and move on. It seemed to clear the problem.
We suggested to the client that prompt attention was required, which resulted in a quickly scheduled repair service call — rather than a sobering disaster recovery nightmare for the client.
Regular monitoring and alerting of a potential problems are two of the most important components of a Dr.Backup S.M.A.R.T. managed online backup – an important service you don't get with most "econo" backup offerings.