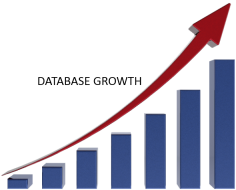 These days, many businesses use industry-specific software applications. At the core of these applications is an SQL database.
This database is the information repository that defines the business. It often includes items such as customer profiles, financial and payment information, order history, images, technical specifications and more.
This is THE mission critical information that absolutely must be safeguarded – but in many cases, it is not!
When a business first starts out, their database is small and manageable. But, after many years of serving clients, the size of this repository dramatically increases. It's not uncommon to see databases grow from a few hundred megabytes to 5 – 10 gigabytes in size.
Trouble is that very few online backup services are optimized to process gigabyte-sized databases. At some point, the size of the database overwhelms backup software leaving the business owner completely unprotected.
Worse yet, most don't even realize this has occurred!
Dr.Backup is a managed online backup service. We continually monitor backups to detect the presence of large database files. When the size of any database gets too large, we contact our clients to determine if simple cleanup is required — or if we need to optimize the backup process.
Often, it is possible to use the combination of file-splitting technology and "differential" backups to partition SQL database files into smaller, more manageable, components. These components can then be efficiently backed up.
Your Dr.Backup service technician can help determine the best way to backup your large SQL databases to ensure your business is protected against unexpected data loss.
If your online backup company doesn't offer this service, please contact us for additional information.