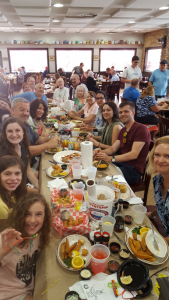 In August 2018, the Dr.Backup extended team held our annual stakeholder's meeting and crab feast at Mike's Seafood North in Pasadena Maryland.
It is truly amazing how over the years we have grown from just a small group into an extended family that now can barely fit into the picture! (Maybe we'll actually need to use that new cellphone camera feature that stitches pictures together into a panorama next year!)
After a brief business meeting and recognition awards (one unnamed staff member had a BIG birthday this year) the bar and the menu were opened wide for all to enjoy.
The crew from Mike's was great. When the first server approached us for our drink and appetizer order, it was really cool to say "We'll take 1 of every appetizer on the menu!" Really cool. The drinks from the bar were of course very tropical.
We then proceeded to put a dent in the crab population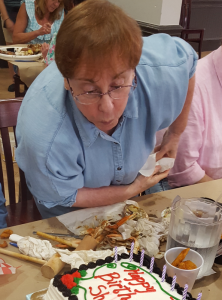 of the Chesapeake Bay. Dozens of gigantic Maryland blue crabs filled our hungry bellies. Of course non-crab eaters had a full menu of other delicacies to choose from.
Getting everybody together in one place, around the same table, at the same time, to share a special moment is one of the best things about a small business.
God-willing, we will all be here again next year to celebrate another successful year and to chart our course forward.