It happened this past weekend. The oldest drive in the Dr.Backup online backup storage network passed quietly into the darkness that is cyberspace.
The oldest drive, or as we call it "P1-D1" (for Port 1, Drive 1) hard failed and had to be replaced.
According to the writing on a slightly-faded label, P1-D1 began life as a shiny new "500GB, 7200 RPM SATA" hard disk drive and went into service sometime in the early 2000's. It's mission was to be a key member of a 12-disk RAID shelf helping to protect the valuable data files of small businesses nationwide — a mission which it successfully accomplished for many years!
But that mission has now officially ended.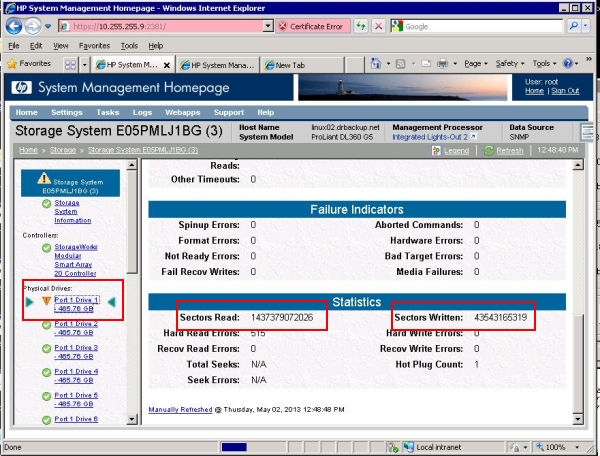 As shown in the statistics page above, over its lifetime, P1-D1 successfully completed 4.3 billion sectors writes – and an astounding 1.4 trillion sector read operations. During that time frame, its active duty cycle was approximately 12 hours per day, 365 days a year.
P1-D1's longevity was impressive since our storage network "hammers" disks pretty hard.
In fact, Dr.Backup business users perform approximately 80,000 backup jobs per month. Over the lifetime of our service, we have completed nearly 5 million backups for our small business clientele. (We'll actually hit that milestone in the next couple of months – more on that soon!)
On average, I estimate that we experience a disk failure rate of approximately 8% per year across our storage arrays. So that's about one out of every 12 disks we have deployed ultimately fail at some point during the year.
Fortunately, all of our storage arrays are redundant so that users of Dr.Backup don't lose valuable copies of their data. In most cases, our users don't even notice that a drive, like P1-D1, failed in service.
But, think about what would happen if a disk drive in one of your business PCs was to fail. In most cases, without a service like Dr.Backup, the pain would be very real. (Hint, hint!)