Once again, the Dr.Backup extended team gathered together for our annual stakeholder's meeting and crab feast on the water at Mike's Seafood North in Pasadena, Maryland. (Yes IRS, we really did have a meeting and I have many witnesses.)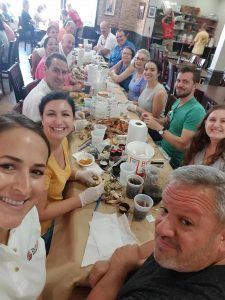 Just look at this motley crew –another year older– and soon to be another pound heavier. (Sherry & TK are waaayyyy far back in the left of the picture, but we got them both.)
Once again, Mike's Seafood team was absolutely wonderful. We actually kept two dedicated servers incredibly busy for nearly 3 hours straight. One server had a Fitbit watch that indicated she had taken 10,000 steps today.
Yes, we are demanding, but we do tip well!
I can objectively say that we probably consumed nearly 1 of everything on the menu…except Extra Large Crabs — of which we ate 4 dozen!
Let's not even start discussing the bar tab – and what the heck is a Mudd-slide?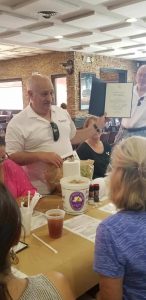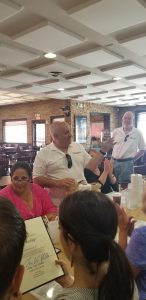 The fully-assembled team was finally able to celebrated their selection as 2019 Small Business of the Year in the Baltimore-Washington corridor region.
Each member of the staff held the laser-etched crystal award trophy presented to us by the Central Maryland Chamber of Commerce.
We also read out loud the certificate of accomplishment proclamations from both our local Congressman and U.S. State Senator.
It was truly a special moment for all. (See, these pictures prove that we actually did have a real, in-person meeting IRS.)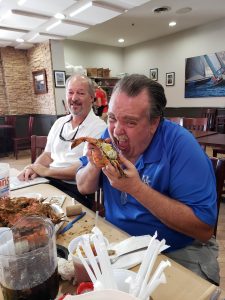 The team continued to grow again this year with the addition of "JR" to our tech support staff.
I actually laughed when JR RSVP'd he would attend the "voluntary" meeting this year. In his message he said to budget food for 3 people as he anticipated being very hungry.
As you can see, he came to the event ready to chomp. That's Steve looking on in amazement as JR removes the shell of an extra large crab using only his teeth.
Alas …as it turns out… his eyes were bigger than his stomach! (well maybe?)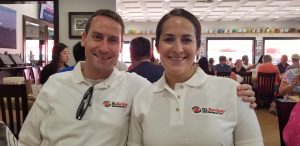 And let's not forget the upcoming wedding of Jeff and Brooke (my youngest daughter) scheduled for October of this year. What a great looking couple in their Dr.Backup uniforms.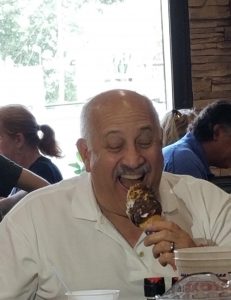 Finally, as Managing Partner of Dr.Backup, I can honestly say that this team is SUPER SPECIAL. Not just because they are now "award winning" – but because they care deeply for each other and YOU their valued clients. And what better way to end this post than with some dessert happiness and a big smile.