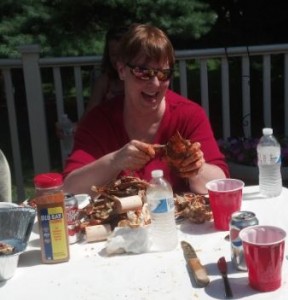 The weather was absolutely gorgeous for the third annual Dr.Backup Crab Feast held on August 4th in Laurel, Maryland.
We all watched (and ate) in amazement for almost 3 hours as Sherry and Melanie battled the elements (bright sunshine) to determine who would win the crab-picking championship. In the end, the queen stood alone!
This year's menu included: cheese cubes and gourmet mustard, fresh veggie tray with ranch dipping dressing, spicy buffalo chicken dip with scoops, 4 pounds of spiced shrimp, 4 dozen extra large Maryland crabs sprinkled with Old Bay seasoning, 10 grilled onion burgers, 8 BBQ chicken sandwiches, pasta salad, coleslaw, fresh fruit salad bowl, key lime cheesecake squares, and a dessert tray of assorted petit fours. Drink favorites were Diet Dr.Pepper, cold bottled water and tall-neck Coronas (oops…we forgot the limes.)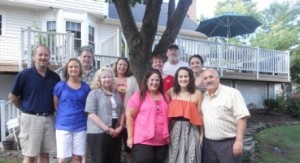 After the feast, we all managed to stagger down the stairs and snap a group picture for the scrapbook. A great time was had by all. See you all again next year!