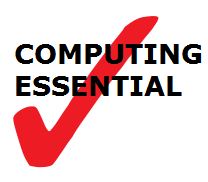 Offsite backup of critical computer files is often referred to as a "computing essential". If digital information is important to you and your organization, you need to take responsibility for making sure that it is safely backed up offsite.
When a failure occurs, and data is lost, there are no excuses.
Sometimes, its good to know that others (aside from Dr.Backup staff) share the same experiences and see the same mistakes small businesses make with their backups.
Recently, I came across the following two quotes that were particularly true "backup-isms" I wanted to share. The first is attributed to Rob Sheldon, technology consultant and blogger. Rob writes:
"If they are a new client for us, they probably do not have any backup system at all. If they do have a backup system, there are 50-50 odds that it isn't working and they don't know it."
How true.
I can definitely say from experience that many folks truly cannot tell you whether they are backing up – or what they are backing up.
Recently a lawyer told me that they bought an expensive tape drive with their server …and therefore backups should be covered (so he didn't need our services).
Epilog: the original tape cartridge purchased with the machine (several years ago) was still in the drive and had never been used. Ring the bell…new customer signup before putting down the phone 🙂
The second quote of the day comes from Jack Wallen who writes for TechRepublic. Jack says:
"Backups are always forgotten until they're needed. Most people don't even back up. And those who do usually assume it's "set it and forget it." …if there's one thing I've learned it's that backups can't be trusted. You must monitor them; you must babysit them. If you don't, one of these days you are going to need that backup and it won't be there."
Wow! That's an even more profound statement.
Anybody with gray hair (including myself) knows all too well that there is no such thing as set-it-and-forget-it in the computer industry. If your backups are not regularly monitored, they simply will not be there for you when you need them most.
Virtually none of the D.I.Y. (do it yourself) "econo" backup services offer any type of monitoring (other than checking to be sure your credit card hasn't expired!)
Dr.Backup provides S.M.A.R.T. backups to all our clients. Most pay us about $1 per day to make sure that their backups are properly installed, configured and actively monitored on a regular basis. If we back it up, rest assured, we will be there to help get your important data back!
Disclosure: If you have lots of data, it will cost a bit more per day…but it isn't going to break the bank!
Contact us if you have questions about your offsite backups – even if you don't want to try the Dr.Backup service for 30-days (absolutely free to serious businesses).