I was recently asked what I thought was a fairly simple question: What file do I select to backup my Quickbooks company data?
Being the smart person I am…I immediately fired back a short email saying "just backup the .QBW file". Seemed like a simple enough answer.
But then, I got to thinking that maybe it wasn't quite such a 'simpleton' question. Below is a snapshot of what I got when doing a file search for "QBW" on Dr.Backup's own back-office server.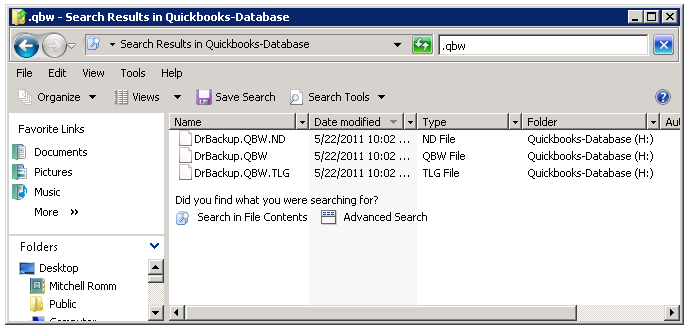 Turns out there were multiple QBW files. One needs to be quite careful to select the proper file to backup!
The file that I *must* backup is called DrBackup.QBW. It's the so-called "company" file and contains the critical financial information needed by the Quickbooks program. In most cases, this file will be the largest Quickbooks data file. Automatically backing up this file with Dr.Backup is highly recommended.
The DrBackup.QBW.TLG file is referred to as the database transaction log. This log is a record of all Quickbooks transactions that have occurred since the last Quickbooks full internal (local) backup. It can grow larger in size than the company file itself – sometimes to 1000's of megabytes of storage. Making an online backup of this file is not generally required. Please make sure you don't confuse this log file with the actual company file – you can't recover a working Quickbooks configuration from only a transaction log.
The DrBackup.QBW.ND file shown is actually data used by the Quickbooks Database Manager software that tracks which users are currently logged into Quickbooks and making changes, i.e., multi-user mode users. Quickbooks restricts the number of simultaneous users who can access the company file based on license counts. This file can be re-created by Quickbooks on the fly – no backup is needed.
So now you have the "real" short answer on what Quickbooks file to backup.  But, there's always more to the story.
Do you know what a Quickbooks ".QBB" file is? What about a ".LGB" file? Is it necessary to backup these files if they are on your system?
Click the comments link below and let me know what you think.